August 21, 2017 A photography friend and I met at the Grayrocks Reservoir area, east of Wheatland, Wyoming to capture the solar eclipse. According to published info, this area would achieve totality – 100% coverage – for just under 1 minute. We actually found a relatively uncrowded area to set up our gear.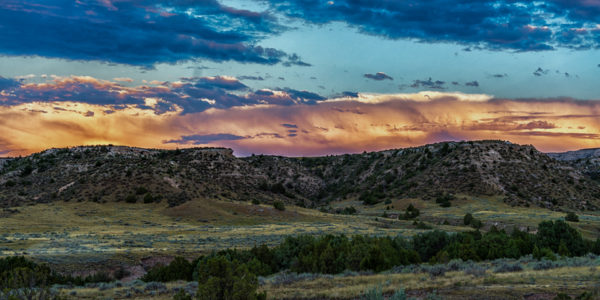 I had 2 cameras – my Sony A7M2 with the f4 24-70mm lens for the partial phases using stacked 10 & 16 ND filters . My Sony A77 had the unfiltered 70-300mm with a 2x teleconverter to capture totality. (And some weird halo effects post totality.) The results are shown below.
As the moon covered more of the sun (starting about image 8 below), the temperature began to drop and light started to dim. The coyotes and crickets started making themselves known about this time, too. As totality peaked it was like a deep greyish blue dusk. The bluffs were lit by a smaller version of the colorful cloud band seen the night before. And people cheered! It was an incredible experience and difficult to find the right words to describe the experience.
Have you heard of the crescent effect? The last image shows the shadow crescents that appear through the tree leaves during the event. I have seen images of colanders being used for the same effect. Makes for some interesting patterns!
We did not capture post totality in an effort to avoid the waves of traffic from Casper and Glendo State Park that we expected. Talking to folks who were in Glendo we heard stories of 4.5 hours just to get out of the park and then another 7-8 hours to return to Denver! We left around 12:30pm and were home by 4:30pm. Good timing.
Having arrived the night before to claim out viewing area, I took the opportunity to shoo the Milk Way a bit, with a timed exposure as well as a few standard shots.
As always, click thru on any image for a larger view and EXIF data for the shot. These images are optimized for web viewing and are not suitable for printing or enlargement. If you have a desire to do that, please contact me using the form below.
Related Images: